With EUR 30.4bn of completed deals across Europe, the non-performing loans (NPL) market has been more active than expected at the beginning of the COVID-19 crisis, according to the new European NPLs – 1H20 report, published by Debtwire ABS.
By this point in 2019, EUR 41.8bn of deals had closed, down from the record EUR 105.2bn in 2018, EUR 40.6bn in 2017, EUR 28.8bn in 2016 and EUR 31bn in 2015, according to Debtwire's NPL Database.
However, this year's activity has been extremely concentrated, with EUR 27.3bn deals, or 89.8%, shared between Italy (EUR 18.2bn) and Greece (EUR 9.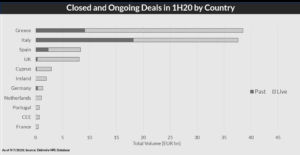 Most of these deals were connected to state-aid programs such as acquisitions from bad banks and securitisations with government guarantees, together accounting for EUR 20.3bn or 66.8% of the total. The largest deal so far in 2020 was the sale from Banca Monte dei Paschi di Siena to the Italian bad bank AMCO, which was 100% owned by the Italian Ministry of Economy and Finance.
In June, AMCO received the approval for the EUR 8.1bn acquisitions of UTPs and NPLs from BMPS, while also getting the green light to buy EUR 2bn from Banco Popolare di Bari.
The second-largest deal was the first Greek NPL securitization within the Hercules Asset Protection Scheme (HAPS), approved last December. Eurobank Ergasias closed the first securitization, the EUR 7.5bn Project Cairo, of which EUR 2.4bn senior notes are due to receive government guarantees while part of the EUR 1.5bn mezzanine and EUR 3.6bn junior notes were sold to doValue.
As lockdowns started to lift, deal flow resumed, especially in May and June. Currently, on the market, there are EUR 66.2bn of transactions. Almost half of this volume is expected from Greece, mostly connected with the Hercules, or HAPS, scheme, with EUR 29.4bn of deals on the market.
Italy might see a EUR 19.7bn mix of securitizations within the GACS scheme, some large unsecured portfolio sales, and leasing portfolios.
In Spain and Ireland, banks have restarted to consider portfolio sales that had been frozen due to COVID-19.
European banks have been preparing for a new wave of bad loans due to the COVID-19 crisis. In the first quarter of 2020, Europe's largest banks set aside more than EUR 21.5bn of provisions to cover losses from bad loans, up 207% from EUR 7bn in the same period in 2019.
"The real impact of the crisis hasn't been seen yet. Governments and regulators have put in place schemes to help households, businesses, and banks, mostly freezing payment of loans. Once the scheme's end, the real impact of the crisis will be clear," said Alessia Pirolo, Head of NPL Coverage, Debtwire.