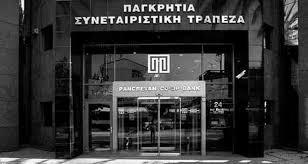 Pancretan Bank Co-op has been in exploratory talks with the market recently to decide if, and when, it will implement its strategic plan to reduce its bad loan portfolio.

According to NPL Confidential's sources, the bank is leaning towards transferring the management of the problem loans as part of efforts to improve its balance sheet and has started initial contacts with the market to assess the existing environment.

Market sources say that Pancretan Bank's current plan to reduce its red loans includes securitizing part of the troubled portfolio.

"Even though the timing due to the coronavirus pandemic is not the best, initial discussions indicate the existence of a satisfactory level of interest in the acquisition of the Pancretan portfolio. This is a securitization that includes secured red loans to the order of 300 million euros," said a market source.

Pancretan Bank Co-op was founded in 1993. It is the largest cooperative bank in Greece, based in Crete and with a license to operate throughout Greece. It has a network of 54 branches, 47 of which are in Crete. The bank's deposits for 2018 amounted to 1.26 billion euros, showing an increase of 12.69 percent from a year earlier, while the rate of increase for deposits among companies and individuals in the entire banking system was 10.4 percent.

Profit before taxes amounted to 15.4 million euros, showing an increase of 3.3 percent from 2017, while profits after taxes hit 10.5 million euros, broadly stable from the previous year. Its capital adequacy index rose to 14 percent after the share capital increase, from 12.4 percent in 2017, exceeding the limit required by the supervisory authorities. The bank's assets amounted to 1.5 billion euros.

Loans in arrears amounted to 23.5 percent of the loan portfolio, while the coverage rate of loans more than 90 days in arrears from accumulated forecasts stood at 70.8 percent from 59 percent in the previous year.