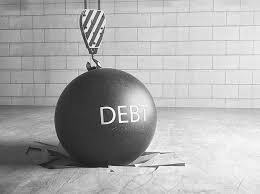 Bad debt created by the coronavirus pandemic is expected to be in the range of 6 to 7 billion euros,  confirming optimistic scenarios put forth by the management of Greek banks.
Based on data sent by lenders to the Special Secretariat for Private Debt Management it can be seen that 1.7 million borrowers had been affected by the crisis as of the end of February, of which 330,000 have a home loan. This data will be used by the Special Secretariat to prepare its negotiating strategy in the next round of discussions with the international creditors regarding the state subsidy to be offered to mortgage holders.
One million borrowers are employees whose companies had been closed by government order or affected by the pandemic and the remaining 700,000 are self-employed professionals of all kinds. It is noted that all the above employees work in sectors recognized by the Finance Ministry as having been hit by the pandemic.
The home loans include:
· Loans that have been paid as normal
· Loans that have been restructured and are now being serviced
· Non-performing loans
The total amount of all the above loans amounts to 20 billion euros.
The categories of serviced loans and those that have been restructured include 250,000 loans, totaling 13-14 billion euros. About half of these are serviced, while the rest have been restructured. The remaining 80,000 loans are non-performing, totaling about 6-7 billion euros.
All of the above information has been sent by the banks to the Special Secretariat for Private Debt Management, which will process it and send it to the country's creditors in the coming days, to negotiate the criteria that will shape the final terms for beneficiaries. The amount of the subsidy will then be agreed upon and passed into the budget.
It should be noted that the subsidy offered to mortgage borrowers affected by the coronavirus must be voted on by the end of the month and come into effect as of July. The final terms for beneficiaries, as well as the amount of the monthly subsidy to be paid, which will last up to three quarters, will be determined based on income and property criteria that will be agreed upon in negotiations with creditors.
According to sources, serviced loans will have a higher percentage of the monthly installment being covered, or for a longer period of time, followed by loans that have been restructured and lastly loans that are not being serviced, nor being renegotiated.
Finance Ministry sources add that the government will need about 700 million euros to subsidize all installments of the 330,000 loans for up to 9 months. In effect, however, this amount will be significantly reduced, as negotiating with the institutions and the strict eligibility criteria will tighten the margins for beneficiaries, meaning that the final amount is not expected to 500 million euros.